Commercial Buildings Disinfection, Electrostatic Disinfection Services, and Coronavirus COVID-19 Disinfection Services in Atlanta, Alpharetta, Roswell, GA, and Surrounding Areas
Prepare Your Business For Returning Workers- EPA Registered Botanical Disinfection
Commercial Disinfection and Decontamination Services
Commercial Buildings Disinfection In Atlanta, Roswell, Alpharetta, Dunwoody, Sandy Springs, Marietta, Suwanee, Duluth, Decatur, Buckhead, Milton, Johns Creek, Cumming, Decatur GA, And Surrounding Areas
Believe it or not, your office may be a breeding ground for harmful contaminants and viruses that linger in the air and on office equipment such as computers, chairs, and supplies. With growing numbers of Coronavirus in Georgia and around the globe, now more than ever businesses in Atlanta and the surrounding areas need to be taking the proper precautions to prevent the spread of harmful viruses and diseases that can compromise your health and put you, your workers, and your business in jeopardy.
At Atlanta Air Experts we provide businesses in Atlanta, Roswell, Alpharetta, and the surrounding areas with licensed and insured duct cleaning and office disinfection services. Utilizing electrostatic technology we rid your office, building, or business of Coronavirus and promote safe and secure working conditions for everyone on your team. Call us today to get a FREE quote and learn more about our Coronavirus disinfection services!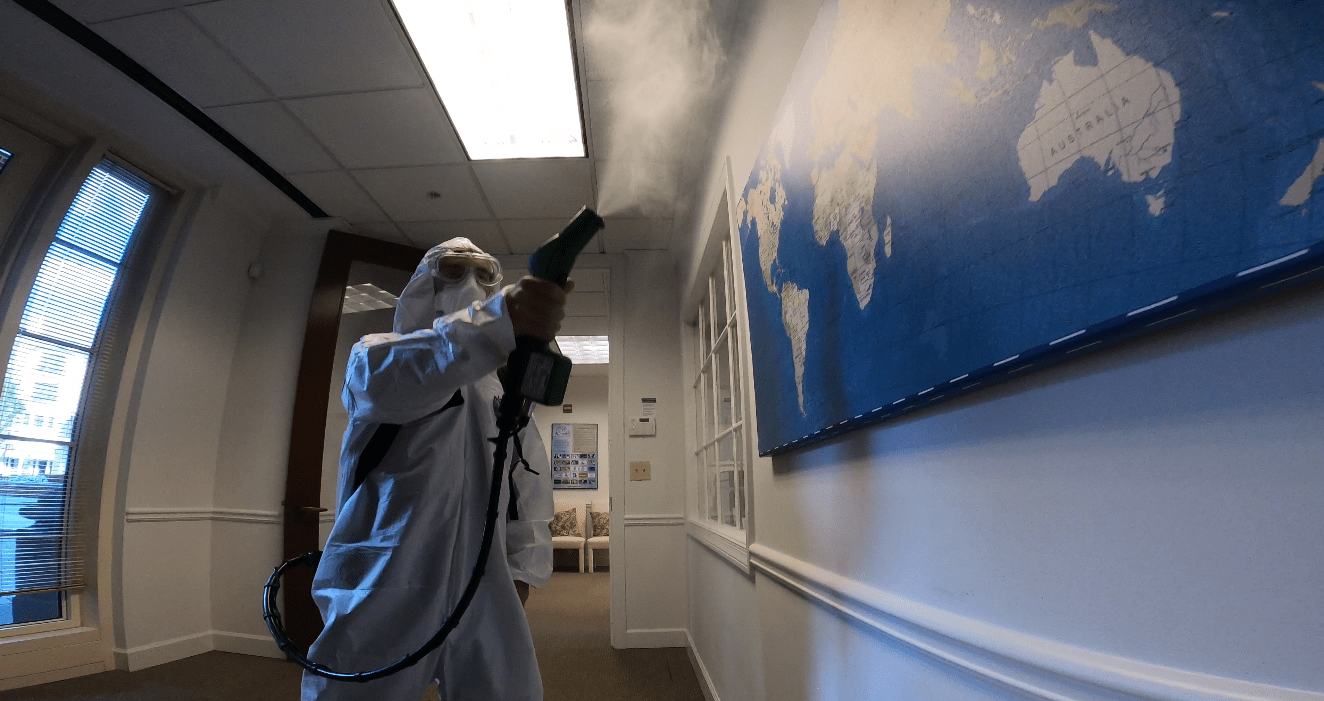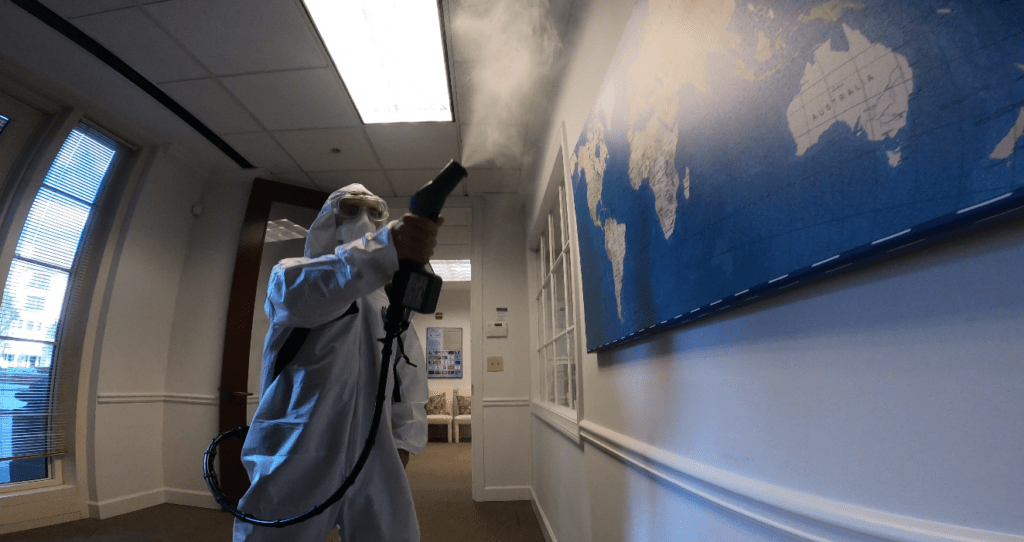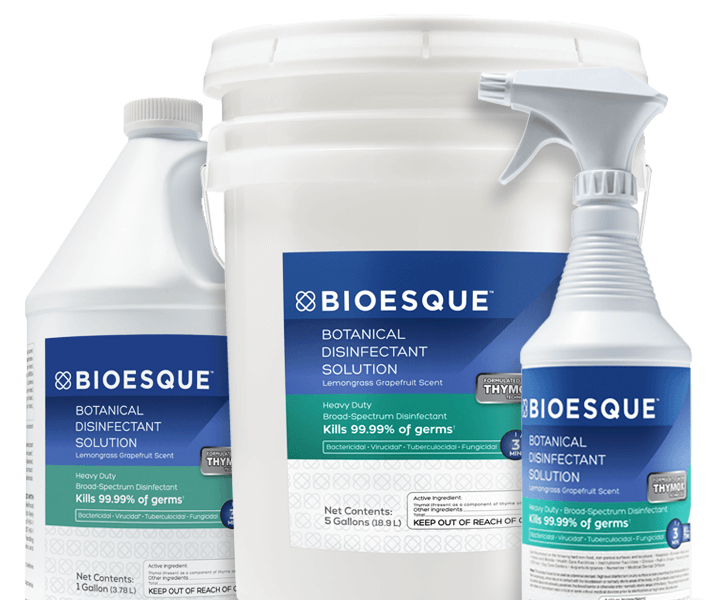 Disinfection Services for Medical Centers, Offices, Restaurants, Gyms, Hotels, Commercial Buildings, Schools
Botanical Environmentally-Friendly Disinfection Product
We offer industrial-grade, innovative, and eco-friendly office disinfection services for businesses of all trades in northwestern Georgia. Our professional technicians utilize botanical office disinfection solutions such as Bioesque that contain no harsh chemicals and get the job efficiently, killing 99.99% of viruses in less than 1 minute, and fully sanitize surfaces in less than 3 minutes. As a Registered product by the EPA, Bioesque is CBC recognized to fight viral pathogens and is an effective tool in our Coronavirus disinfection services. At Atlanta Air Experts, Bioesque is an essential component of our Coronavirus disinfection services due to its various benefits.
Coronavirus Disinfection, Electrostatic Disinfection Services
At Atlanta Air Experts we know that traditional disinfection methods leave room for human error and don't always saturate hard-to-reach surfaces in your building or office, which is why we offer electrostatic disinfection services that cover all areas down to the smallest crevice.
Electrostatic disinfection methods function by atomizing solutions into positive charges that are attracted to surfaces, and coat areas evenly, engulfing the various surfaces of your office. By utilizing the best equipment for electrostatic disinfection services, we ensure that all surfaces of your office are reached and saturated by our botanical solutions. With a team of professional technicians skilled in office disinfection service, coronavirus doesn't stand a chance!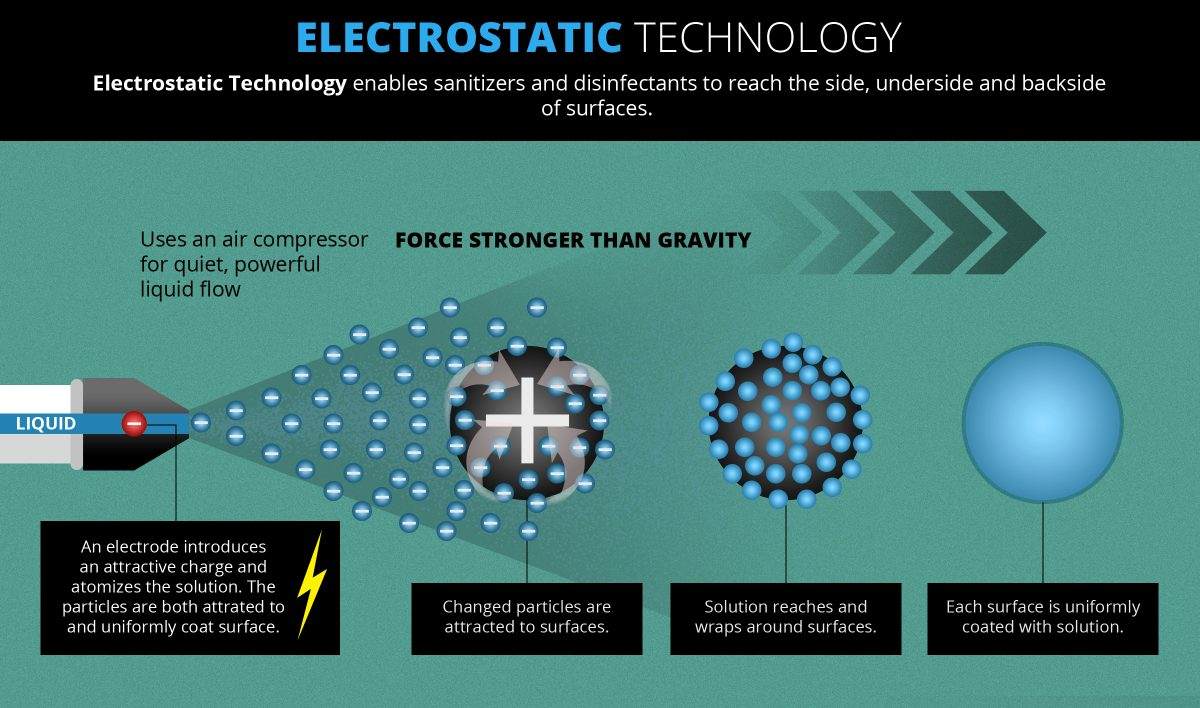 Looking to disinfect your businesss? Atlanta Air Experts also offers office disinfection services. Contact us today for a free estimate on our disinfection services!
Our estimates are free and you'll be happy you contacted us!