HVAC Duct Cleaning, AC Duct Cleaning, Air Duct Cleaning, Vent Cleaning, and Duct Cleaning in Duluth, GA
Scheduling regular air duct cleaning and HVAC duct cleaning for Duluth commercial buildings is a great sign of your commitment to your tenants. Commercial buildings experience a lot more contaminants than residential units. For one, there are more people coming in and out carrying pollen, shedding skin cells and creating dust. Next, there are often more renovations with changing office layouts and tenant rotation. Finally, commercial buildings are often located near heavy traffic areas as well as possible construction. All of this can lead to multiple problems if not scheduled for duct cleaning.
The first problem is recirculated air being carried throughout the duct system and possibly over contaminants. Being exposed to this potentially polluted air for 8 hours a day can lead to symptoms associated with acute discomfort, e.g., headache; eye, nose, or throat irritation; dry cough; dry or itchy skin; dizziness and nausea; difficulty in concentrating; fatigue; and sensitivity to odors.
All this leads to:
Absenteeism
Tenant complaints
Liability
The next problem is the amount of stress put on the system. If a six room house can collect 40 pounds of dust per year, imagine how much your building is collecting. Now imagine how hard an HVAC system must work to overcome the dust, grime and contaminants on the air coils, system, vents and air ducts. In the end, this will cost you money through:
Tenant complaints of uneven cooling throughout the building
Extra stress on parts
High energy bills
Premature HVAC system aging
Atlanta Air Experts can help businesses (and homeowners) of Duluth with a complete ac duct cleaning, including vent cleaning, to both remedy and mitigate problems. Not only will you be able to fulfill the promise of excellent Indoor Air Quality (IAQ) to your tenants, you'll also be saving money and investing in your building's future. And, be sure to immediately address any mold issues with mold remediation from Atlanta Air Experts.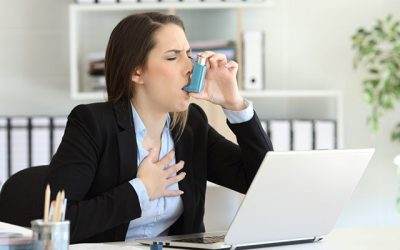 HVAC Duct Cleaning in Duluth, GA
Duluth residents should have confidence in hiring Atlanta Air Experts. Not only are they constantly looking to exceed industry standards, they also hold qualifications that show their dedication to the HVAC duct cleaning industry. Members of:
Better Business Bureau (BBB)
Institute of Cleaning and Restoration (IICRC)
the Indoor Air Quality Association (IAQA)
NADCA-The HVAC Inspection, Maintenance and Restoration Association
Commercial Air Duct Cleaning in Duluth
Any property or building can have a problem with contaminated air ducts. Commercial air duct cleaning is important for any building, especially those that care for children, the elderly or anyone with a compromised immune system. In fact, if your Duluth building does include any of those groups, you might want to ask about deodorizing and sanitizing along with your commercial air duct cleaning. We provide service for:
Medical Centers
Commercial Buildings
Senior Care Centers
Hospitals
Daycare Centers
Schools and Universities
Air Duct Cleaning In Duluth, Georgia
Duluth is northeast of Atlanta, approximately 20 miles from downtown. Duluth is home to the Southeastern Railway Museum with a vast array of train artifacts, including Pullman cars, locomotives & cabooses, with tours & rides. Residents can enjoy the Town Green, adjacent to Duluth City Hall, with large fountain and free concerts.