There are various reasons why you should opt for duct cleaning services. Atlanta Air Experts provides duct cleaning services in Lawrenceville, Atlanta, Cumming, GA, Marietta, Decatur, Brookhaven, GA.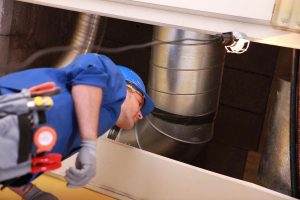 Improved Indoor Air Quality: Over time, dust, dirt, allergens, and other contaminants can accumulate in the ductwork of your HVAC (heating, ventilation, and air conditioning) system. These pollutants can be circulated throughout your home every time the system operates, leading to poor indoor air quality. Regular duct cleaning helps remove these contaminants, improving the air you and your family breathe.

 
Energy Efficiency: When your ducts are clogged with dust and debris, it restricts the airflow in your HVAC system. This makes the system work harder to maintain the desired temperature, leading to increased energy consumption and higher utility bills. By cleaning the ducts, you ensure proper airflow, allowing your HVAC system to operate more efficiently and reduce energy waste.

 
Reduced Allergens and Irritants: Ducts can become a breeding ground for allergens such as pollen, pet dander, mold spores, and dust mites. These allergens can trigger allergies and respiratory issues, particularly for those with sensitivities or asthma. Regular duct cleaning helps remove these irritants, creating a healthier and more comfortable living environment.

 
Extended HVAC System Lifespan: The accumulation of dirt, dust, and debris in your ductwork can put added strain on your HVAC system. Restricted airflow and increased stress can lead to premature wear and tear, resulting in more frequent breakdowns and the need for costly repairs. By keeping your ducts clean, you reduce the strain on your HVAC system, potentially extending its lifespan and saving money in the long run.

 
Odor Control: Lingering smells in your home, such as cooking odors, pet odors, or musty odors, can become trapped in the ducts and circulate throughout your living space. Regular duct cleaning helps remove these odors, improving the overall freshness of your home and creating a more pleasant environment.

 
It's important to note that the frequency of duct cleaning can vary depending on factors such as the age of your home, the presence of pets, the local climate, and any specific indoor air quality concerns. Consulting with a professional HVAC technician can help determine the appropriate schedule for duct cleaning based on your unique circumstances. Please call us to know more.