How long has it been since you last cleaned your AC ducts? Do you know that there are harmful substances that can accumulate in your air ducts over time? All of the air in your home circulates through the air ducts multiple times a day. Not only is an unclean duct harmful to your health but it can reduce the lifespan of your AC. If you do not perform routine AC duct cleaning, chances are that it will break down when you need it the most. AC repairs are expensive as well and in most cases, there is no option for you but to replace it altogether.
At Atlanta Air Experts, we believe that prevention is always better than cure. Our team of professionals will guarantee you punctual, cost-efficient and effective services. We provide our services throughout Alpharetta, Brookhaven GA, Buckhead, Cumming GA, Decatur, and Duluth GA. If you need professional AC duct cleaning, be sure to call us right away.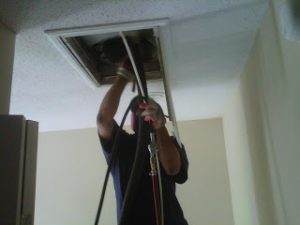 Here are some few more reasons why AC duct cleaning is important:
Cleaner environment
If you clean your air ducts professionally, it reduces the dust that would otherwise circulate throughout your living space. However, a thorough air duct cleaning reduces the amount of interior cleaning and dusting necessary in order for you to maintain a hygienic home. This improves a healthy living for you and your family and helps you breathe easier.
Improves airflow efficiency
The flow of air from your air conditioner can get restricted due to a heavy build-up of dust and grime. This means that your system will have to work harder in order to heat or cool your home, resulting in a much lower level of efficiency. If you get them cleaned regularly, your AC will operate at peak efficiency and provide the most cost-effective performance.
So, if you are interested in our services, call us today.